This post was written in 2016. We have not yet visited the splash pad in Agawam for the 2018 season, but it is open for the summer and it's pretty popular! Be advised that there may be crowds and full parking lots when you visit! The splash pad remains free for use so please continue to respect the rules and keep it clean so we can all enjoy this fun FREE space!
So, technically it's over the border, but here in Northern Connecticut, we do not have a spray park anywhere around. So, we all sneak over to Agawam and play in their spray park! And it is definitely worth sneaking to!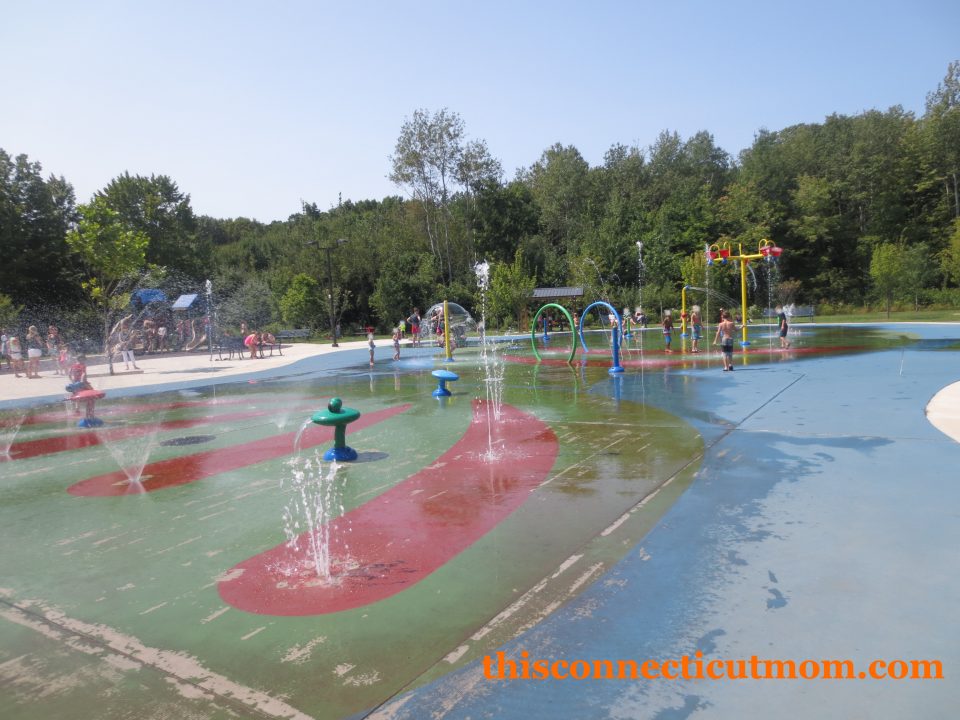 I had been hearing about this splash pad in Agawam all summer long. It apparently was just built in 2015. I finally checked it out on a field trip with our playgroup, and was totally impressed! I had never been to or seen a spray park before. It was a whole new experience for me! After that first visit, we had to go back so I could write this post, and also so we could splash in the water some more! We went on a pretty hot day, and it was a welcome relief!
The Spray Park is open daily from 11:00AM to 7:00PM. You can arrive earlier to settle in and use the playground, but the water does not turn on until 11 a.m. The park usually opens in late June and stays open until Labor Day.
Before I go into the details of this place, I will make a note that while the GPS directions are pretty spot on, it can be easy to get lost driving to this park. Both times I went, I missed the turn off of River Road, and continued past the park. And the second time I went, I took a right onto N. Alhambra Drive instead of left onto S. Alhambra Drive. You want to end up on Corey Street, since that is where the parking lot for the splash pad is located. I am adding this map and pointing out just what I mean. I do try to listen to my British GPS lady, but I have right and left issues so it is very easy for me to get lost!!
When you approach the park, there is a big sign and a very obvious driveway leading in.
The parking lot is huge. Both times I went I was able to park very close to the pavilion. It's easy to go back and forth to the car. Worth noting, when you are in the pavilion, it is easy for a little one to run into the parking lot. On the plus side, the spray park and playground are pretty set back from the lot. There is no fence but unless you have a super fast child, you are pretty safe when you are out on the spray pad.
They have a huge covered pavilion with a snack shop and restrooms right next to the parking lot. There are several picnic tables. People are welcome to bring in their own food. The pavilion is not rentable and is available to everyone for use. If you want to have a spot at a picnic table, it's best to arrive early. But please, remember to share with others!
They also have a number of smaller covered pavilions around the spray park and, like the pavilion, are available on a 'first come, first serve' basis. These fill up fast , so plan to arrive early if you want to use the smaller covered picnic areas.
The bathrooms are great for potty breaks but they aren't the best for getting dressed and changing little ones, and I did not see a changing table in either the family restroom or the ladies' room. So, we did some creative changing on the floor the handicapped stall while laying down multiple towels! I also used the trunk of my car to change my son during one of the visits!
The park rules for splash pad in Agawam are posted clearly on the read of the pavilion (facing the spray park). These include some helpful notes regarding how long the water stays on for, and how to reactivate them, as well as the required use of swimmy diapers.
Once we were settled at a bench, we finally headed into the water! The Spray pad is in the blazing sun, and it does get hot! The dry ground especially. You don't notice it so much when in the water, but there were a few times I forgot to pop my shoes back on and – yikes!- my feet got burned! Shoes and sunscreen are an absolute MUST! A hat wouldn't hurt either (unless you have a child like mine, who rips hats off…)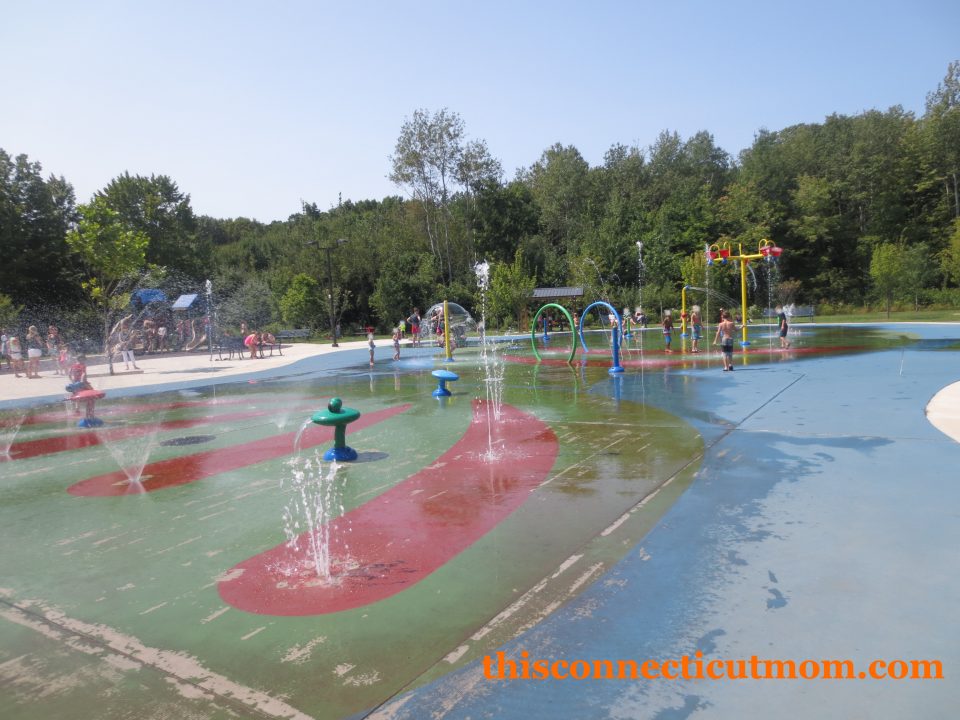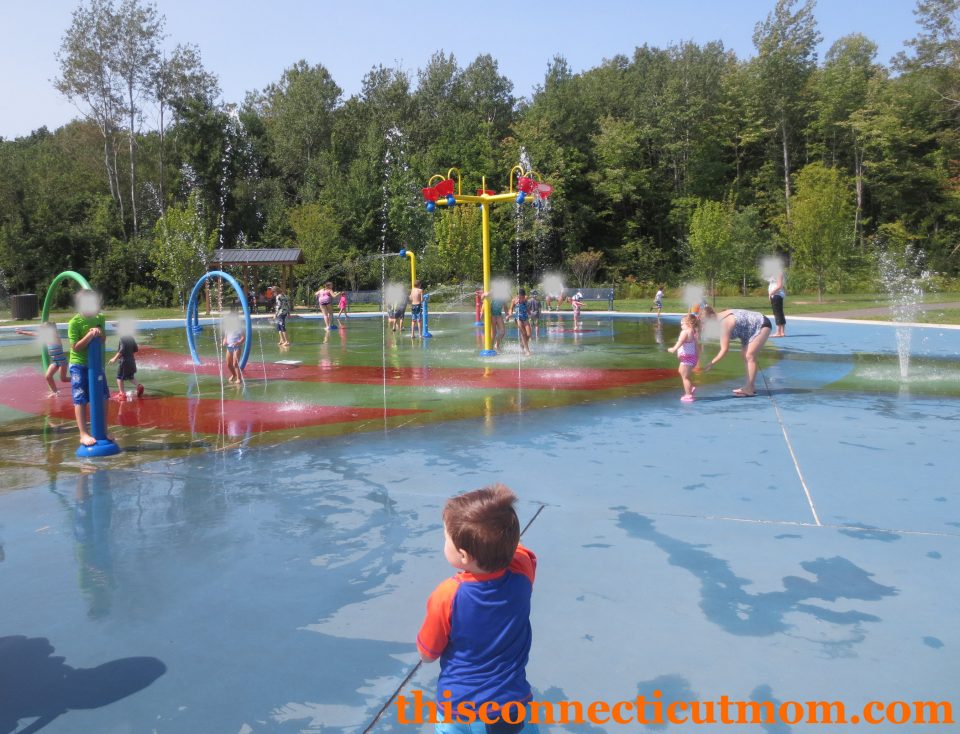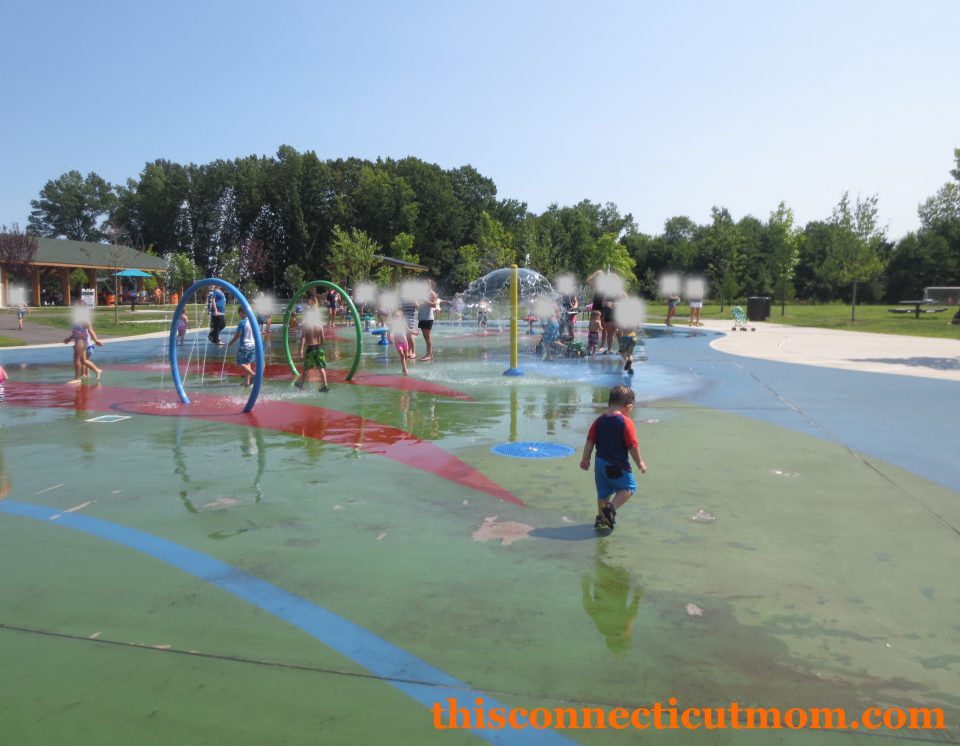 My boy took a little while to warm up to the whole water spraying at you concept, and he required lots of time running through the water with momma. And well, I was super hot, so I didn't object. I noticed a lot of moms in their regular clothes, staying dry… and I thought, Why?? Get in there, have fun! I totally wore my bathing suit for that reason! I have no shame being that mom!
They have a wide variety of water features, and it's smartly organized. To one side are the smaller fountains and sprays geared to the little kids, and to the other side are the buckets of dumping water and water shooters for the older kids. The kids mostly spread around evenly, regardless of their age, but I did notice the older kids gravitating to the water shooters! And they were vicious! I got blasted a few times!!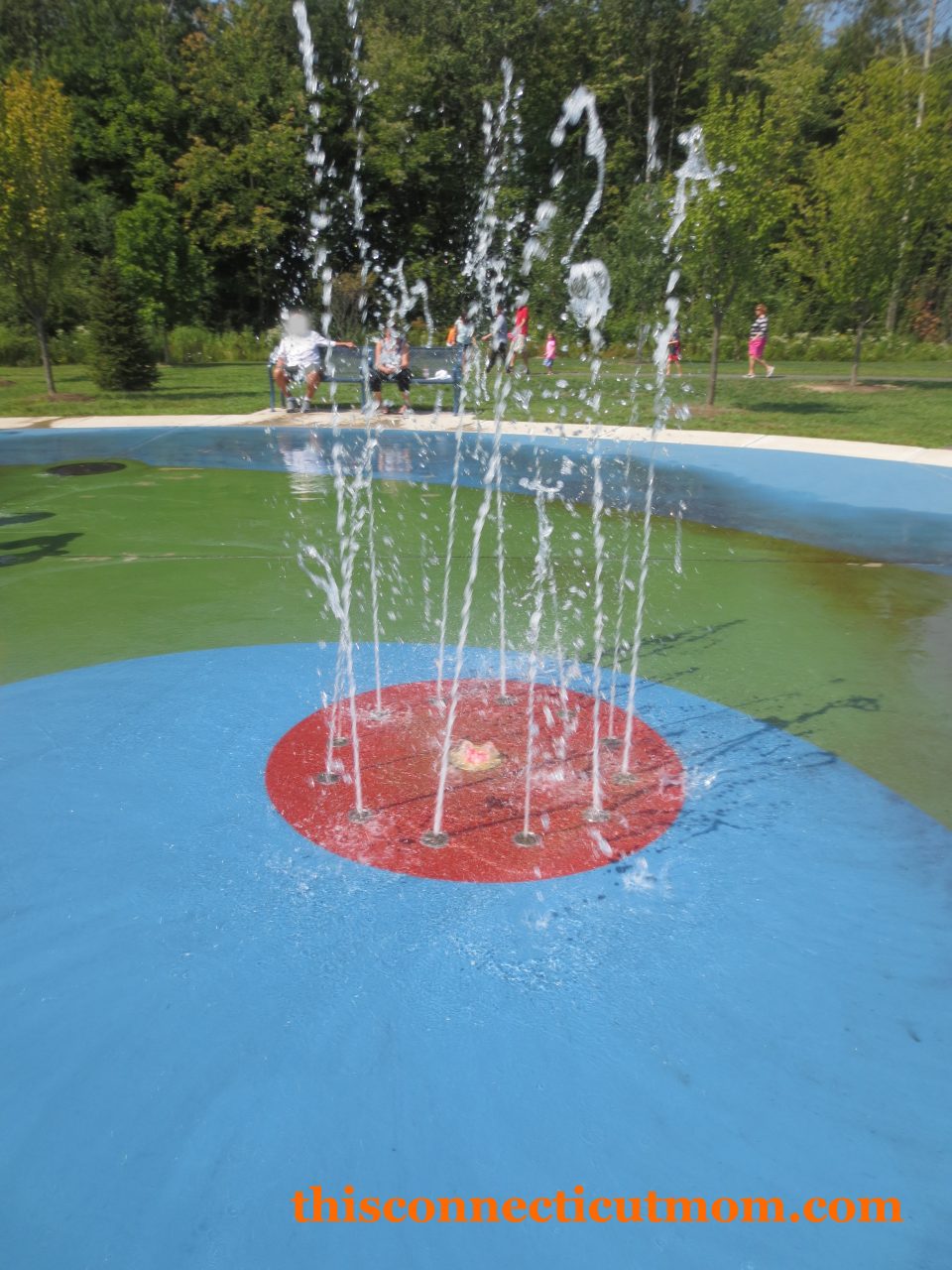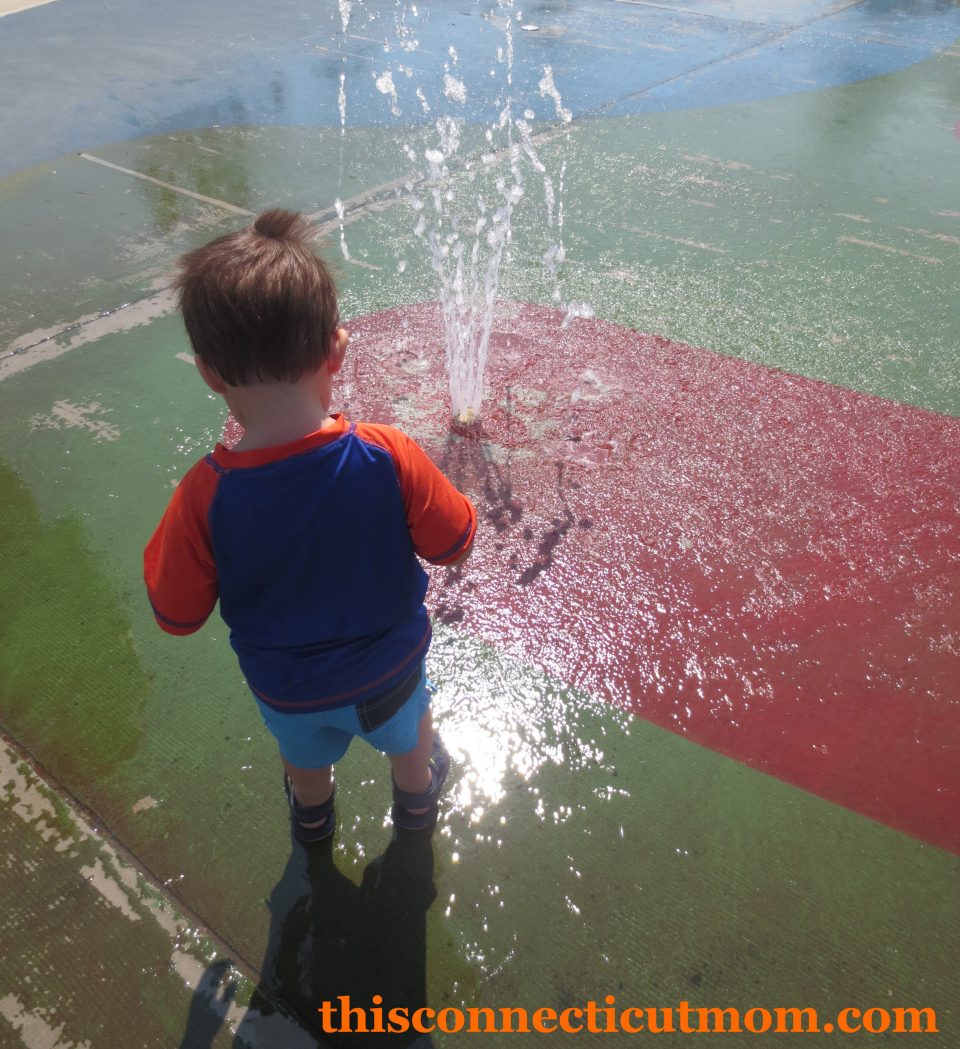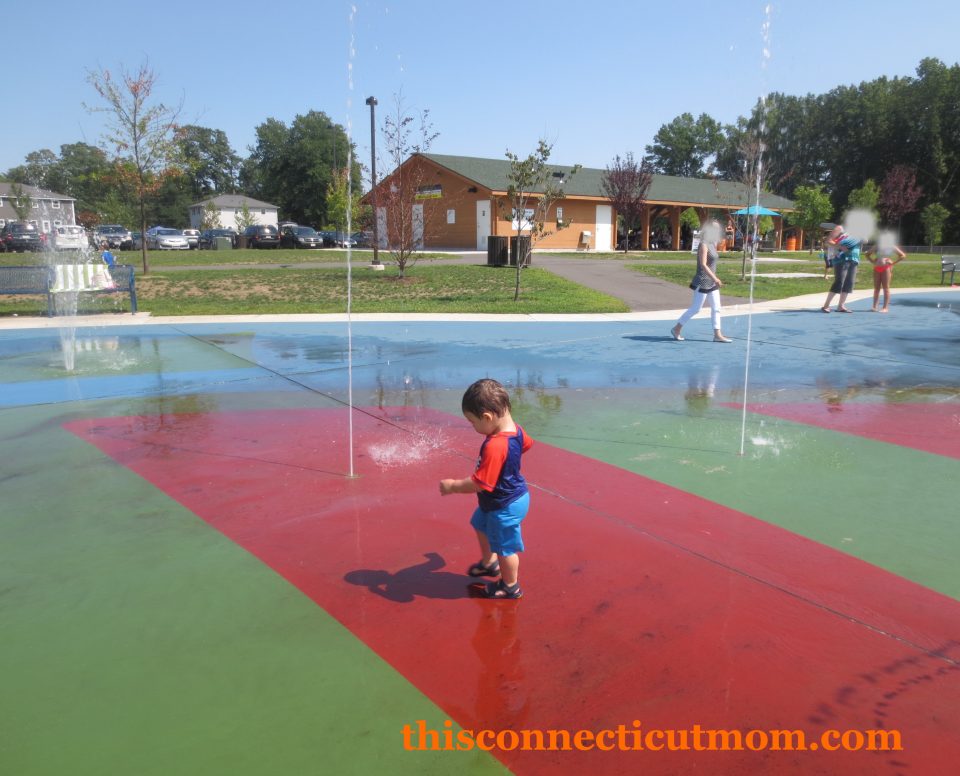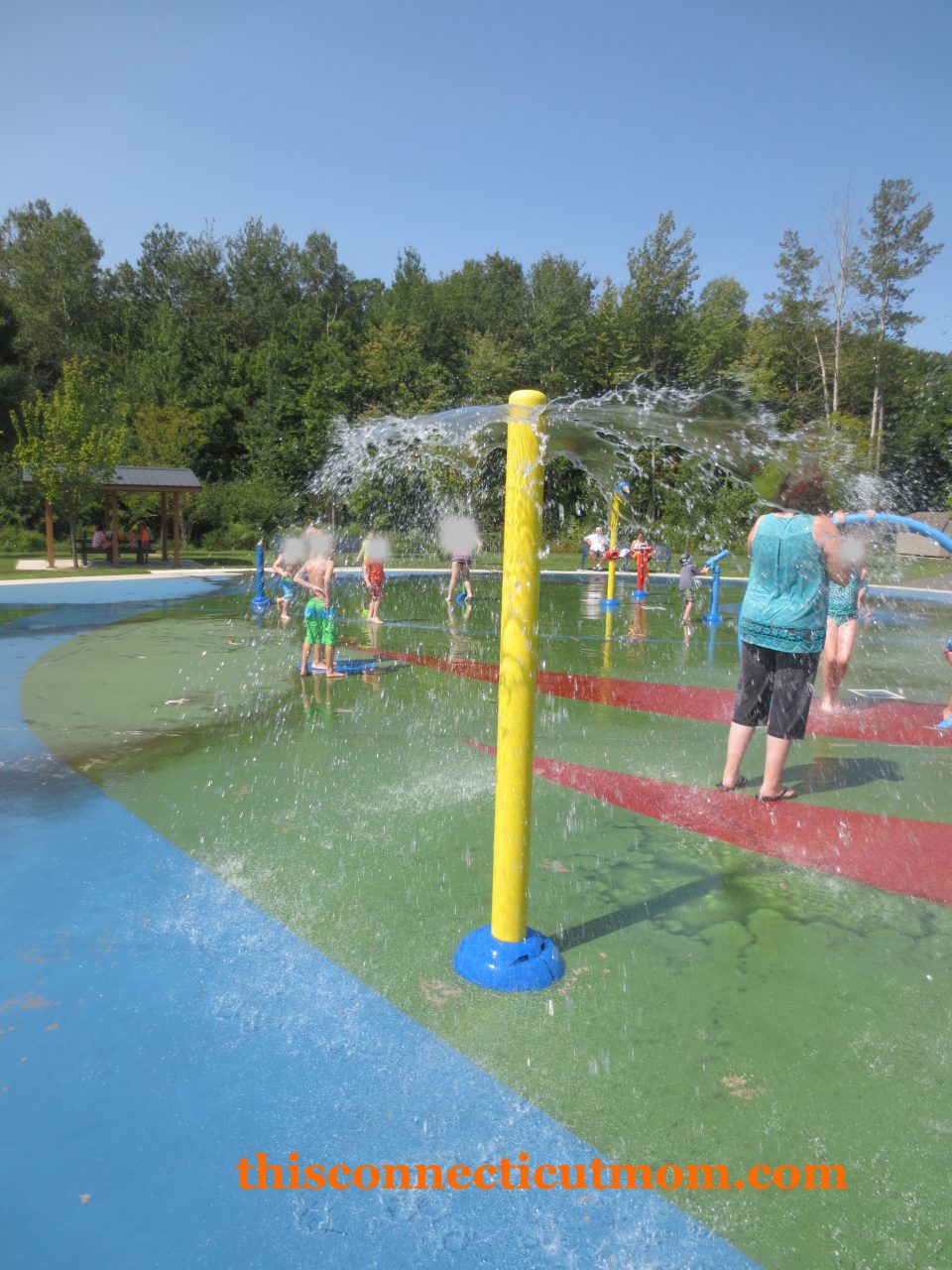 Be careful to watch where you stand! You never know what might fall on you!!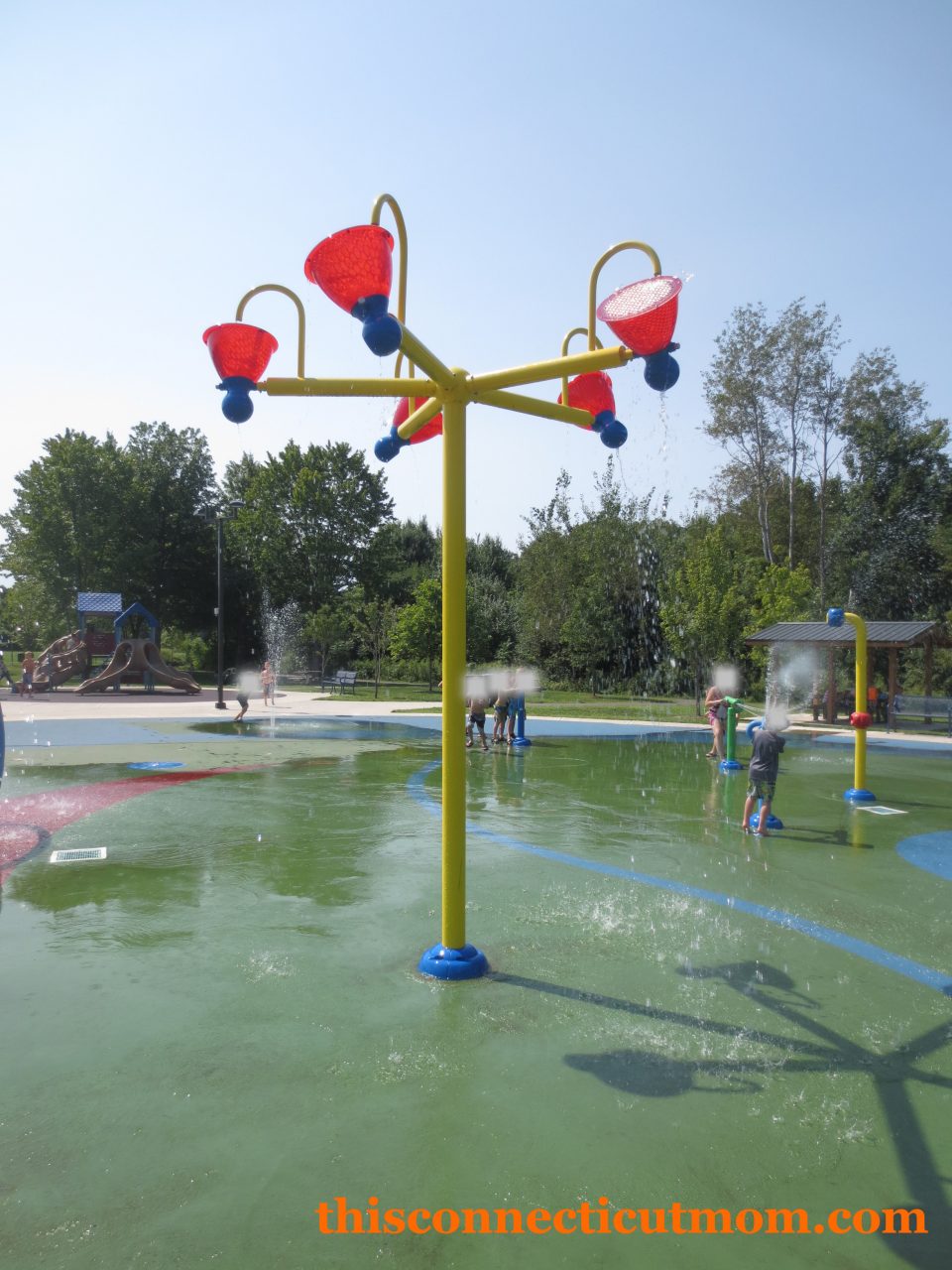 We really liked the crab!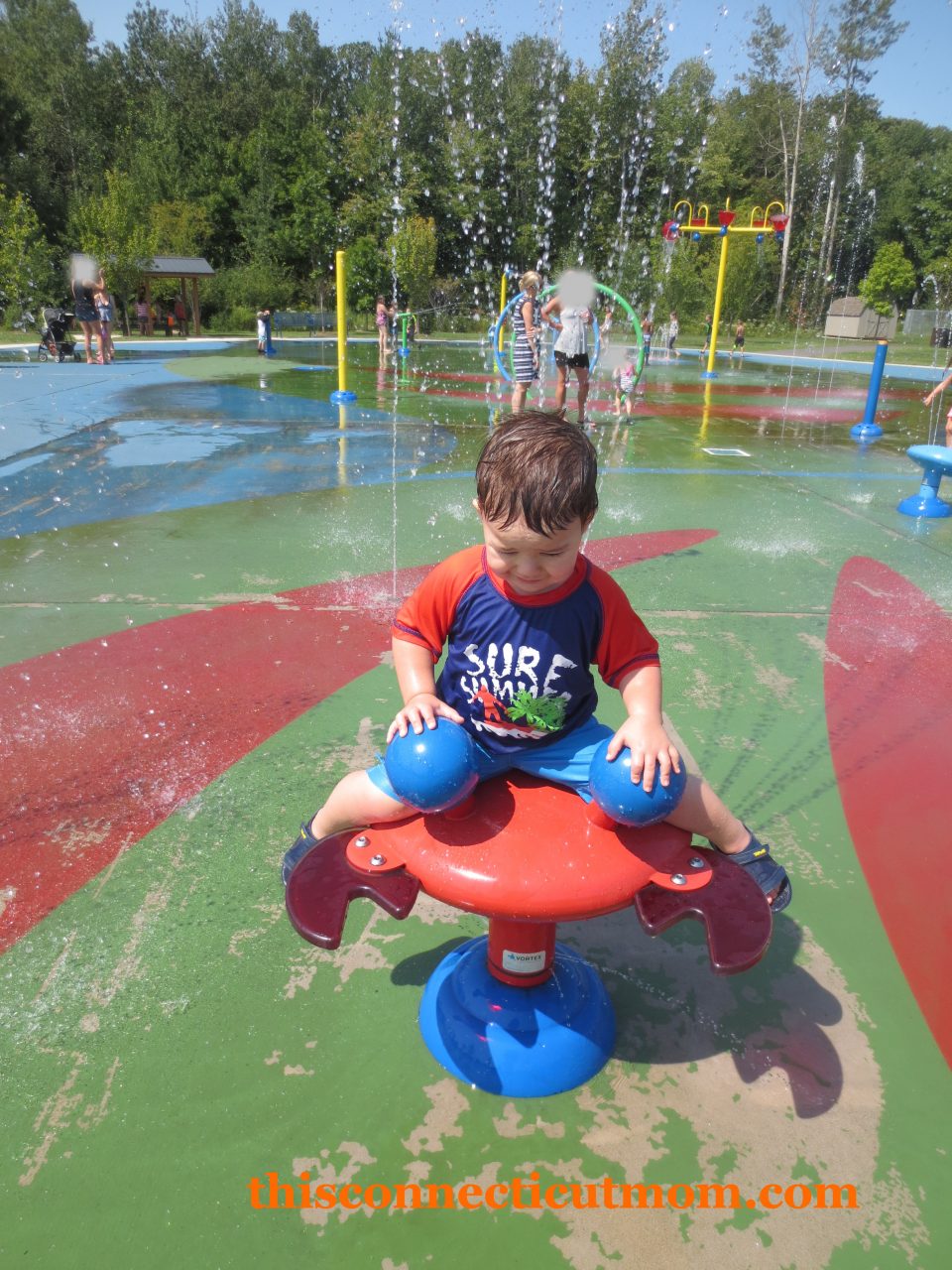 When you need a break from the water, right next to the spray park they have a really cool playground for the kids. It's small but it definitely kept my child entertained for a while!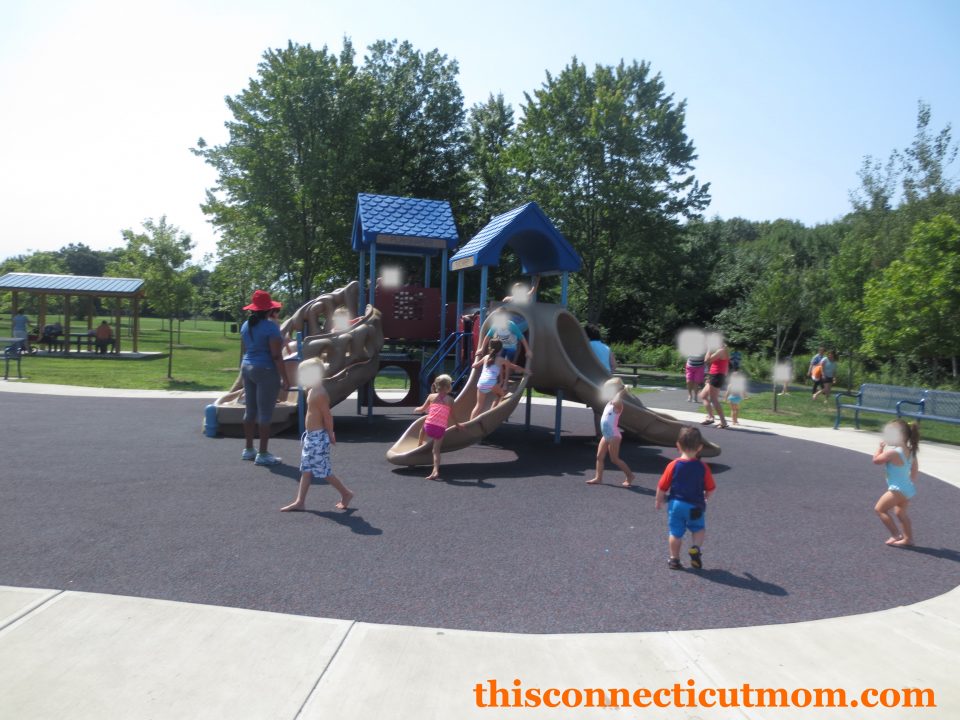 The playscape is designed for ages 2 to 5. But you see a lot of older kids hanging out on it. Most of them were pretty considerate of the little kids.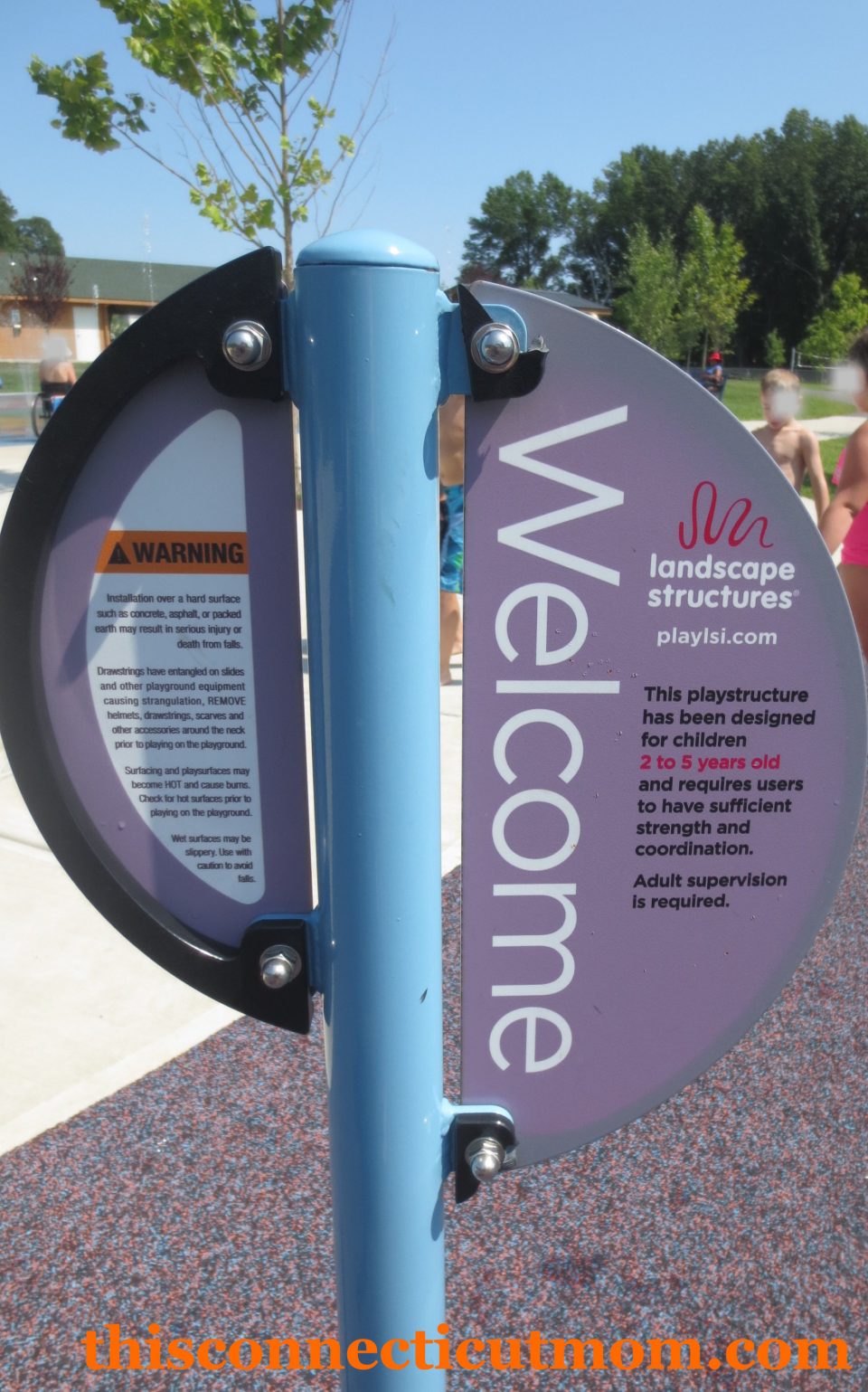 My boy really liked this staircase! He had fun going up and down the steps!
There's a tunnel – which he always enjoys!
And a couple slides!
On the other side, you'll also find this climber with a really intricate design!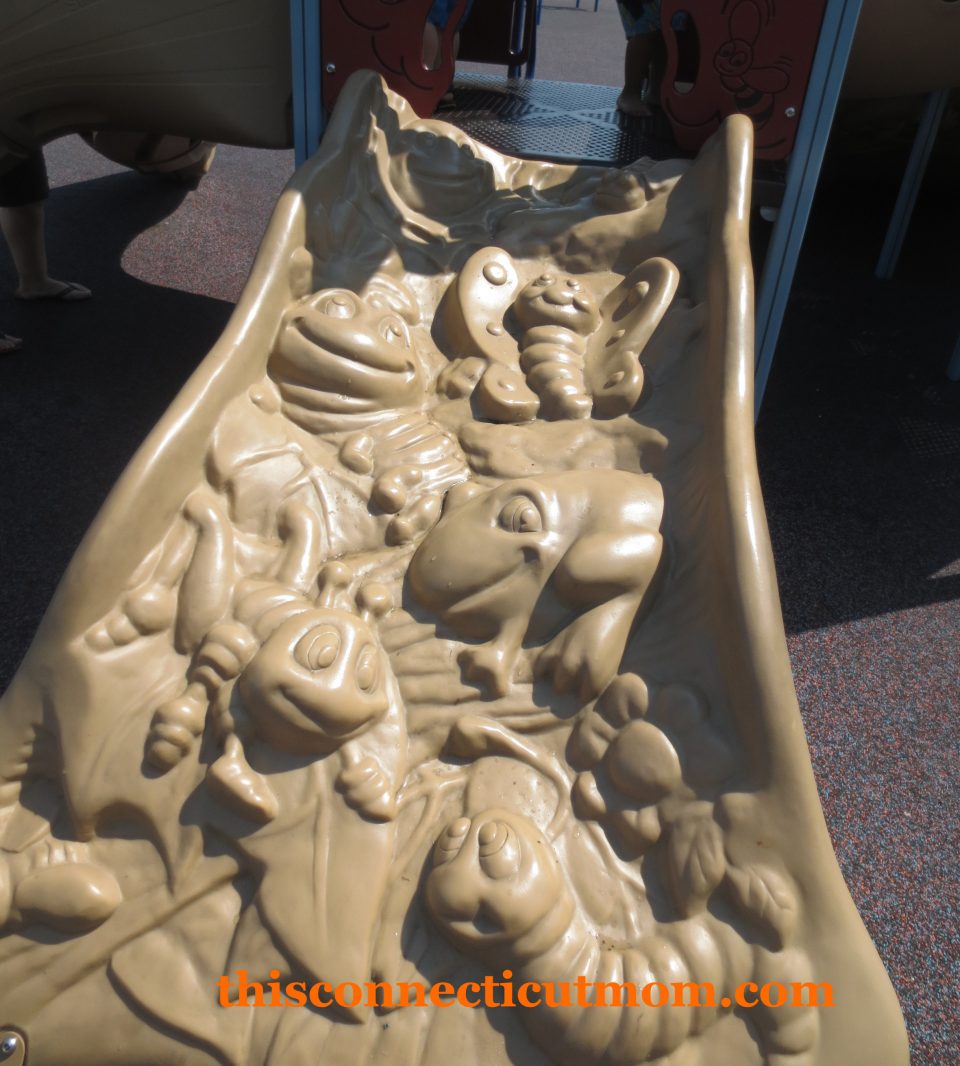 Also on the playground is a jungle gym that most of the big kids gravitated towards. My child was a little too small for it!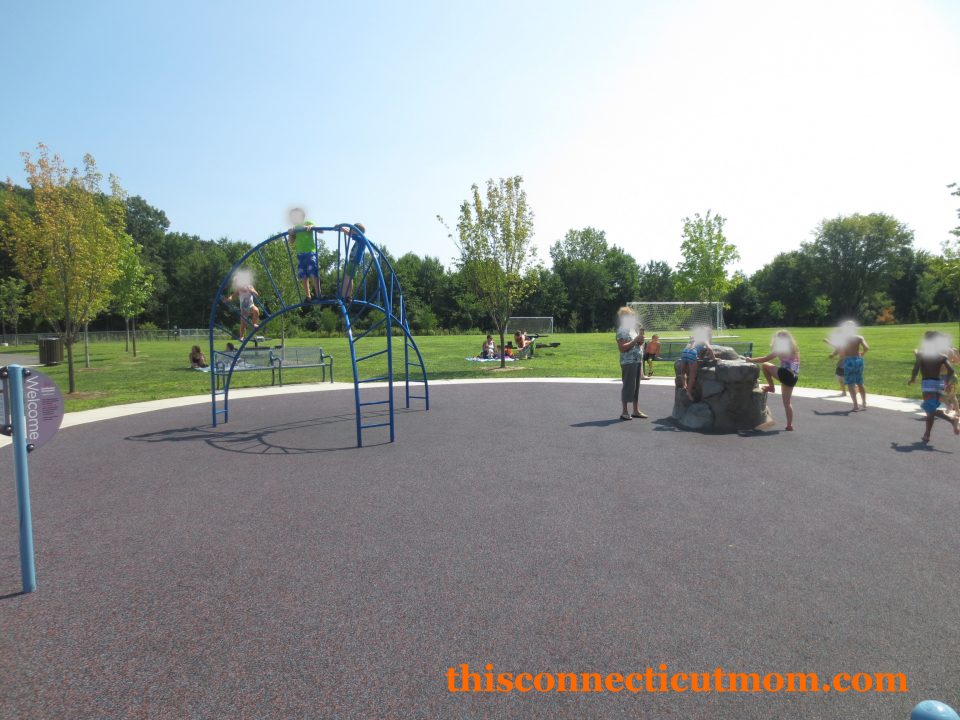 After working up a little sweat, my child was back in the water for a bit longer. We ended up skipping the picnic and heading home before lunch, but you could absolutely spend several hours at this park if you bring your lunch.
The splash pad in Agawam is a really great spray park and playground. For those in Northern Connecticut, this should be a place you visit often during the summer months. And for those a little further south, it is worth at least one visit during the hot summer months!
This about sums it up…
13-1 Liberty Avenue, Agawam, Massachusetts
Hours: Water is on between 11 a.m. to 7 p.m. The park is open before 11 a.m.
Features:
FREE!

Stroller accessible

Open playground area, designed for ages 2 to 5
Concrete/Asphalt and rubber ground covering- hot surfaces!
Benches, covered pavilions and picnic tables found throughout park
Large parking lot with plenty of available spaces
Bathrooms but no changing table facility
Food available for purchase
Open sunny area, bring lots of sunblock!
A few additional tips:
Water shoes for you and your child are a must. The pavement, where not wet, is HOT, especially the area around the playscape.
Wear a bathing suit, mom! Do not be afraid to have fun in the water with your child! There is nothing wrong with being the soaking, dripping wet mom chasing around a laughing happy toddler!
Remember your sunblock. There is no cover in the water area or the playground, it is easy to get burnt!
Bring lots of towels! You may end up changing your child on the bathroom floor…
Definitely bring a snack or lunch, and plan to stay for a while!